for the love of good food
#sushi #specialty rolls #goodfood #Crafted with Love
Located in the heart of Toronto, Osaka Sushi specializes in good food for the love of eating. Fusion dishes and Japanese classics alike, there's something for everyone.
Osaka Sushi Japanese Restaurant is a business specializing in Japanese classics with a modern twist for a memorable dining experience.

Osaka Sushi is located between Dundas West station and Keele Station on Bloor Street. Walk east 2 and a half blocks from Keele Station or walk west 2 and a half blocks from Dundas West Station and you're here!
Phone
(647)347-4522
Location
1620 Bloor Street West Toronto, Ontario M6P1A7
Hours
Mon, Wed-Fri 11:30a–10:30p
Tue, Sun 5:00p–10:30p
Sat 1:00p–10:30p
RESERVATIONS
Recommended for 6 or more. Please call to book
$

4.95
Vegetarian Spring Rolls (5 pcs)
deep fried veggie spring rolls with plum sauce
$

4.50
Sesame Balls (5 pcs)
red bean paste in a chewy ball of dough
two pcs $2.95 / four pcs $4.50
Stuffed Jalapenos
fish stuffed peppers battered and deep fried
two pcs $2.95 / four pcs $4.50
$

4.95
Edamame
steamed and salted soy sauce in the pod
$

4.95
Agedashi Tofu
deep fried tofu with teriyaki sauce
$

4.95
Yaki Gyoza (6 pcs)
deep fried beef/veggie dumplings
$

7.95
Yaki Tori
2 skewers of chicken and veggies with teriyaki sauce
$

6.95
Tako Yaki (6 pcs)
deep fried octopus inside soft batter served with okonoki, mayo and bonito flakes
$

6.50
Vegetable Tempura
deep fried assorted vegetables
$

7.95
Shrimp Tempura (4 pcs)
deep fried shrimp
$

7.15
Shrimp & Veggie Tempura
deep fried shrimp (2 pcs) and veggies
$

8.95
Breaded Shrimp Tempura (4 pcs)
deep fried breaded shrimp
$

11.50
Soft Shell Crab
deep fried soft shell crab
$

10.95
Sashimi Appetizer
9 pcs of assorted raw fish
$

10.95
Salmon Sashimi Appetizer(9 pcs)
9 pcs of salmon sashimi
$

8.95
Salmon Sushi Appetizer (6 pcs)
6 pcs of salmon nigiri
$

10.95
Tuna Sushi Appetizer (6 pcs)
6 pcs of tuna nigiri
$

10.95
Avocado Sushi Pizza
avocado and diced cucumber on a deep fried sushi rice patty
$

10.95
Salmon Sushi Pizza
fresh salmon, fish eggs on a deep fried sushi rice patty
SERVED WITH GREEN SALAD AND MISO SOUP
$

13.95
Spider Roll (spicy add 50 cents)
deep fried soft shell crab, asparagus tempura, cucumber with tobiko + kabayaki, spicy mayo sauce
$

13.50
Dynamite Roll (spicy add 50 cents)
shrimp + asparagus tempura, kani, cucumber with tobiko + kabayaki sauce
$

13.50
Osaka Roll
asparagus, salmon tempura, shrimp tempura with kani and masago + kabayaki sauce
$

13.50
Chicken Teriyaki Roll
chicken + asparagus tempura, avocado, cucumber + kabayaki sauce
$

13.50
Salmon Teriyaki Roll
salmon + asparagus tempura, avocado, cucumber + kabayaki sauce
$

13.50
Alaska Roll
fresh salmon, asparagus tempura, avocado and cucumber
$

13.50
Boston Roll
fresh salmon, asparagus tempura, avocado with masago
$

13.50
Crunch California Roll
California roll covered with tenkas and masago + kabayaki sauce
$

13.50
Crunch Spicy Roll
spicy salmon roll covered with tenkas + hot sauce, spicy mayo and kabayaki sauce
$

11.95
Crazy Boy Roll
deep fried California roll
$

13.95
Spicy Tuna Tempura Roll
deep fried spicy tuna roll
$

13.50
Spicy Salmon Tempura Roll
deep fried spicy salmon roll
$

13.95
Kamikaze Roll
deep fried spicy salmon and spicy tuna roll
$

14.95
Diablo Roll
shrimp + asparagus tempura, cucumber with spicy scallop on top
$

14.95
Salmon Sushi Roll
fresh salmon, cucumber, tobiko with salmon on top
$

17.95
Tuna Sushi Roll
fresh tuna, cucumber, tobiko with tuna on top
$

14.95
Assorted Sushi Roll
assorted fresh fish, cucumber, tobiko with fish on top
$

13.50
Ninja Roll
California roll with tuna + salmon on top
$

13.95
Rainbow Roll
California roll with assorted fish, avocado, tobiko and masago
$

13.50
Mountain Roll
spicy salmon, tobiko and tenkas with salmon and masago
$

15.50
Tuna Lover's Roll
spicy tuna, tobiko and tenkas with tuna on top
$

13.95
Salmon & Spicy Scallop Roll
spicy salmon roll with salmon on top
$

15.95
Hawaiian Volcano Roll
spicy salmon with tilapia on top baked to perfection
$

13.95
Red Dragon Roll
shrimp + asparagus tempura, cucumber with salmon on top
$

15.50
Tuna Dragon Roll
shrimp + asparagus tempura, cucumber with tuna on top
$

13.95
Green Dragon Roll
shrimp + asparagus tempura, cucumber with avocado on top
$

15.50
Black Dragon Roll
shrimp + asparagus tempura, cucumber with barbecued eel and avocado on top
$

13.95
Dragon Roll
California roll with barbecued eel and avocado
$

13.95
Caterpillar Roll
barbecued eel and cucumber with avocado on top
$

13.95
Spanish Roll
spicy salmon, shrimp tempura with avocado on top
$

13.50
Crunch Roll
shrimp tempura, cucumber roll covered with tenkas
$

13.50
Philadelphia Roll
fresh salmon, avocado, cucumber + cream cheese
$

16.95
Lobster Lover's Roll
deep fried lobster tail, asparagus tempura, cucumber, avocado + tobiko
$

15.95
Double Dynamite Roll
shrimp + asparagus tempura, kani, cucumber with more shrimp on top
$

20.95
Chef's Roll
shrimp + asparagus tempura, assorted fish, avocado, cucmber with tuna and salmon on top
$

4 pcs $6.95 /

$

8 pcs $13.95
Futo Roll
cucumber, shitake mushroom, kani, tamago and pickled radish
$
4 pcs $6.95 /
$
8 pcs $13.95
SERVED WITH GREEN SALAD AND MISO SOUP
Specialty Vegetarian Rolls
$

12.95
C.A.A. Roll (8 pcs)
cucumber, asparagus tempura and avocado
$

11.95
Yasai Roll (8 pcs) add avo 1
sweet potato tempura + kabayaki sauce
$

12.95
Shitake Roll (8 pcs)
shitake mushrooms, avocado, asparagus tempura and cucumber + kabayaki sauce
CLASSIC ROLLS ARE 6 PCS EACH AND HAND ROLLS ARE THE SUSHI VERSION OF AN ICE CREAM CONE
Vegetarian Classic Rolls & Hand Rolls
classic $4.95 / hand $3.95
Kappa Roll
sliced cucumber
classic $4.95 / hand $3.95
classic $5.50 / hand $4.50
Avocado Roll
fresh avocado
classic $5.50 / hand $4.50
classic $4.95 / hand $3.95
Vegetable Roll
lettuce, cucumber, carrot
classic $4.95 / hand $3.95
classic $4.95 / hand $3.95
Oshinko Roll
pickled radish
classic $4.95 / hand $3.95
classic $5.95 / hand $4.50
Kappa and Avocado Roll
sliced cucumber and avocado
classic $5.95 / hand $4.50
classic $6.50 / hand $5.50
Shitake Classic Roll (6 pcs)
marinated shitake mushrooms
classic $6.50 / hand $5.50
classic $6.50 / hand $5.50
C.A.A. Classic Roll (6 pcs)
cucumber, avocado, asparagus tempera
classic $6.50 / hand $5.50
classic $6.50 / hand $5.50
Yasai Classic Roll (6 pcs) (add avo 50 cents)
sweet potato tempura + kabayaki sauce
classic $6.50 / hand $5.50
Classic Rolls & Hand Rolls
classic $6.50 / hand $4.95
California Classic Roll
avocado, cucumber and kani with fish eggs on top
classic $6.50 / hand $4.95
classic $6.50 / hand $5.50
Salmon Classic Roll (add avo for 50 cents)
fresh salmon
classic $6.50 / hand $5.50
classic $7.50 / hand $6.50
Tuna Classic Roll
fresh tuna
classic $7.50 / hand $6.50
classic $7.50 / hand $5.50
Hamachi Negi Classic Roll
yellow tail and green onion
classic $7.50 / hand $5.50
classic $5.50 / hand $4.50
Salmon Skin Classic Roll
grilled salmon skin, cucumber and tobiko + kabayaki sauce
classic $5.50 / hand $4.50
classic $6.50 / hand $4.95
Unagi Classic Roll
barbecued eel and cucumber + kabayaki sauce
classic $6.50 / hand $4.95
classic $7.50 / hand $5.50
Philadelphia Classic Roll
salmon, avocado, cucumber, cream cheese
classic $7.50 / hand $5.50
classic $7.50 / hand $5.50
Shrimp Tempura Classic Roll (avo add 50 cents)
shrimp tempura roll + kabayaki sauce
classic $7.50 / hand $5.50
classic $8.95 / hand $6.50
STA Classic Roll
salmon, tuna, avocado
classic $8.95 / hand $6.50
Spicy Classic Rolls & Spicy Hand Rolls
classic $6.95 / hand $5.50
Spicy California Classic Roll
avocado, cucumber & kani with fish eggs + hot sauce
classic $6.95 / hand $5.50
classic $6.95 / hand $5.50
Spicy Salmon Classic Roll (avocado add 50 cents)
spicy salmon mixed with tenkas and fish eggs
classic $6.95 / hand $5.50
classic $7.95 / hand $5.95
Spicy Tuna Classic Roll
spicy tuna mixed with tenkas and fish eggs
classic $7.95 / hand $5.95
classic $7.95 / hand $5.95
Spicy Scallop Classic Roll
spicy scallop mixed with tenkas and fish eggs
classic $7.95 / hand $5.95
classic $6.95 / hand $5.50
Spicy Crab Meat Classic Roll
spicy kani mixed with tenkas and fish eggs
classic $6.95 / hand $5.50
classic $6.95 / hand $5.50
Spicy White Tuna Classic Roll
spicy white tuna mixed with tenkas and fish eggs
classic $6.95 / hand $5.50
Served with green salad and miso soup
$

12.95
Sushi Lunch
8 pcs of sushi and 6 pc California roll
$

13.95
Salmon Sushi Lunch
10 pcs of salmon sushi
$

12.95
Sashimi Lunch + rice
9 pcs of assorted fresh fish
$

12.95
Chirashi Lunch
an assortment of fresh fish on a bed of sushi rice
$

10.95
Maki Set Lunch
6 pc California roll & 6 pc salmon roll
$

12.95
Spicy Maki Set Lunch
6 pc spicy tuna roll & 6 pc spicy salmon roll
$

9.50
Vegetarian Maki Set Lunch
6 pc avocado roll & 6 pc kappa roll
$

10.95
Chicken Teriyaki Lunch + rice
grilled chicken with teriyaki sauce
$

11.95
Spicy Chicken Lunch + rice
stir fried chicken and veggies with spicy sauce
$

10.95
Beef Teriyaki Lunch + rice
grilled beef with teriyaki sauce
$

10.95
Salmon Teriyaki Lunch + rice
grilled salmon with teriyaki sauce
$

10.95
Bulgogi Lunch + rice (spicy add 1)
grilled, marinated thin sliced beef
$

10.95
Tempura Lunch + rice
deep fried shrimp and veggies with tempura sauce
$

9.95
Veggie Tempura Lunch + rice
deep fried assorted veggies with tempura sauce
Served with green salad, miso soup & rice
$

14.95
Chicken Teriyaki Dinner
grilled chicken breast and veggies with teriyaki sauce
$

15.95
Spicy Chicken Dinner
stir fried chicken and veggies with spicy sauce
$

15.95
Chicken Katsu
breaded and deep fried chicken breast cutlet
$

16.95
Beef Teriyaki
grilled beef and veggies with teriyaki sauce
$

15.95
Bulgogi Dinner(spicy add 1)
marinated thin sliced beef and veggies
$

19.95
Galbi Dinner (BBQ beef short ribs)
barbecued, marinated beef short ribs
$

15.95
Salmon Teriyaki Dinner
grilled salmon and veggies with teriyaki sauce
$

13.95
Tofu Teriyaki Dinner (pan fried tofu add 2)
battered and deep fried tofu and stir fried veggies with teriyaki sauce
$

15.95
Tempura Dinner
deep fried shrimp and veggies with tempura sauce
$

16.95
Shrimp Tempura Dinner
deep fried shrimp tempura with tempura sauce (8 pcs)
$

13.95
Vegetable Tempura Dinner
deep fried assorted veggies with tempura sauce
Served with green salad and miso soup
$

16.95
Sashimi Dinner
16 pcs of assorted fresh fish with a scoop of rice
$

21.95
S&T Sashimi Dinner
8 pcs of salmon, 8 pcs of tuna with a scoop of rice
$

23.50
Sashimi Moriawase
21 pcs of assorted fresh fish with a scoop of rice
$

16.95
Salmon Sashimi Dinner
16 pcs of fresh salmon sashimi with a scoop of rice
$

16.95
Salmon Sushi Dinner
12 pcs of salmon sushi
$

16.95
Sushi Dinner
9 pcs of assorted sushi, 3 pcs of California roll & 3 pcs of salmon roll
$

18.95
S&T Sushi Dinner
6 pcs of salmon sushi and 6 pcs of tuna sushi
$

20.95
Sushi Moriawase
12 pcs of assorted sushi, 3 pcs of California roll and 3 pcs of salmon roll
$

17.95
Chirashi Dinner
16 pcs of fresh fish on a bed of sushi rice
$

20.95
All-In-One Dinner
6 pcs of sashimi, 6 pcs of sushi, 6 pc California roll
$

19.95
Unagi Donburi Dinner
barbecued eel with kabayaki sauce on a bed of sushi rice
$

15.95
Maki Set A(18 pcs)
6 pcs each of California, salmon and kappa rolls
$

16.95
Maki Set B(18 pcs)
6 pcs each of California, salmon and tuna rolls
$

22.95
Maki Set C(24 pcs)
12 pcs of California, 6 pcs each of avocado and kappa rolls
$

47.95
Maki Set D(48 pcs)
18 pcs of California, 6 pcs each of salmon, tuna, kappa, avocado and spicy salmon rolls
$

17.95
Spicy Maki Set Dinner
6 pcs each of spicy California, spicy salmon & spicy tuna rolls
$

14.95
Vegetarian Maki Set Dinner
6 pcs each of kappa, avocado and vegetable rolls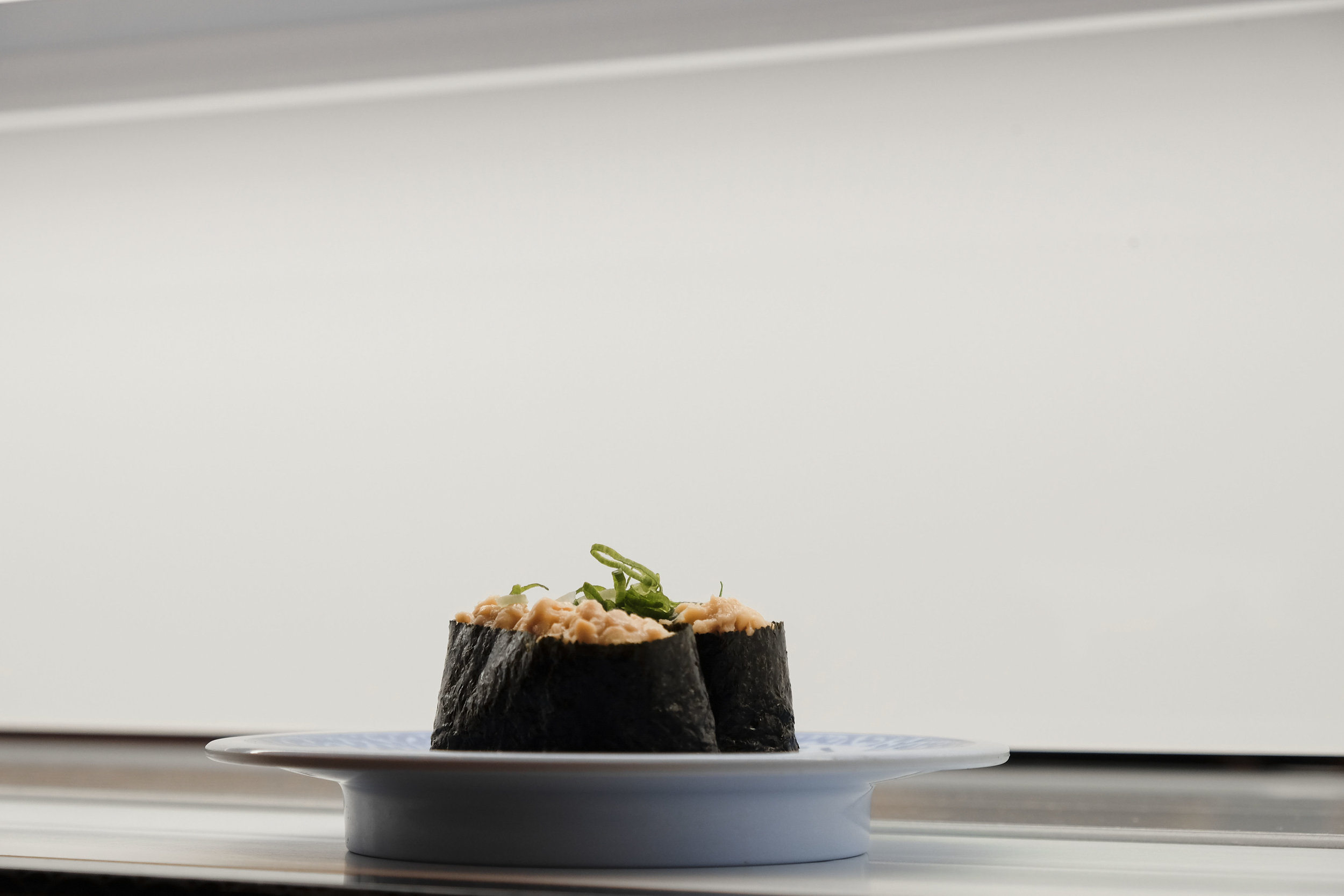 $

18.95
BB1 - Sashimi & Tempura
9 pcs of assorted sashimi, 2 pcs of shrimp tempura & assorted veggie tempura
$

17.95
BB2- Sushi & Tempura
6 pcs of assorted sushi, 2 pcs of shrimp tempura & assorted veggie tempura
$

22.95
BB3- Sashimi, Sushi & Tempura
9 pcs of sashimi, 4 pcs of sushi, 2 pcs of shrimp tempura & assorted veggie tempura
$

16.95
BB4- California Roll & Tempura
6 pcs of California roll, 2 pcs of shrimp tempura & assorted veggie tempura
$

17.95
BB5- Teriyaki & Tempura
choice of beef, chicken, tofu or salmon teriyaki, 2 pcs of shrimp tempura & veggie tempura
$

16.95
BB6- Teriyaki & California Roll
choice of beef, chicken, tofu or salmon teriyaki & 6 pc California roll
$

11.95
Nabe Udon
thick udon noodles in a tasty fish broth with assorted seafood and vegetables
$

14.95
Tempura Udon
thick udon noodles in a tasty fish broth with shrimp and veggie tempura
$

12.95
Spicy Udon
thick udon noodles in a hot a spicy fish broth with seafood and veggies
$

9.95
Vegetable Udon
thick udon noodles with assorted veggies in a broth
$

12.95
Yaki Udon (this is a stir fry)
assorted seafood and veggies stir fried with udon noodles in teriyaki sauce served with miso soup
$

3.95
Green Tea Ice Cream
scoop of green tea ice cream
$

2.99
Green Tea Mochi Ice Cream (2pcs)
Japanese mochi rice dough filled with green tea ice cream filling
$

2.99
Red Bean Mochi Ice Cream (2pcs)
Japanese mochi rice dough filled with red bean ice cream filling
$

2.99
Vanilla Mochi Ice Cream (2pcs)
Japanese mochi rice dough filled with vanilla ice cream filling
$

2.99
Coffee Mochi Ice Cream (2pcs)
Japanese mochi rice dough filled with coffee ice cream filling
$

29.95
Osaka Dinner A
6 pcs of California roll, 4 pcs of sushi, shrimp & veggie tempura & choice of teriyaki (beef, chicken, tofu or salmon)
$

34.95
Osaka Dinner B
6 pcs of California roll, 6 pcs of sushi, shrimp & veggie tempura, edamame & choice of teriyaki (beef, chicken, tofu or salmon)
$

41.95
Osaka Dinner C
6 pcs of California roll, 6 pcs of sushi, 6 pcs of sashimi, shrimp & veggie tempura, yaki gyoza, edamame & choice of teriyaki (beef, chicken, tofu or salmon)
$

31.95
Small M&M Party Tray
6 pcs of sashimi, 6 pcs of sushi & your choice of specialty roll
$

46.95
Medium M&M Party Tray
12 pcs of sashimi, 12 pcs of sushi & your choice of specialty roll
$

56.95
Large M&M Party Tray
18 pcs of sashimi, 18 pcs of sushi & your choice of specialty roll
$

71.95
XL M&M Party Tray
24 pcs of sashimi, 24 pcs of sushi & your choice of specialty roll
Sushi - 2 pcs/order Sashimi - 3 pcs/order
sushi $4.95 / sashimi $5.95
Amaebi - sweet shrimp
sushi $4.95 / sashimi $5.95
sushi $5.95 / sashimi $6.95
Hamachi-yellow tail
sushi $5.95 / sashimi $6.95
sushi $4.95 / sashimi $5.95
Hotate-scallop
sushi $4.95 / sashimi $5.95
sushi $4.50 / sashimi $5.50
Ika-squid
sushi $4.50 / sashimi $5.50
sushi $4.50 / sashimi $5.50
Kani-imitation crab meat
sushi $4.50 / sashimi $5.50
sushi $4.50 / sashimi $5.50
Saba-mackerel
sushi $4.50 / sashimi $5.50
sushi $4.95 / sashimi $5.95
Tako-octopus leg
sushi $4.95 / sashimi $5.95
sushi $4.94 / sashimi $5.95
Tobi-Zura-tobiko with quail egg
sushi $4.94 / sashimi $5.95
sushi $4.50 / sashimi $5.50
Ebi-marinated shrimp
sushi $4.50 / sashimi $5.50
sushi $4.50 / sashimi $5.50
Hokogai-surf clam
sushi $4.50 / sashimi $5.50
sushi $5.50 / sashimi $6.50
Ikura-salmon roe
sushi $5.50 / sashimi $6.50
sushi $5.50 / sashimi $6.50
Maguro-tuna
sushi $5.50 / sashimi $6.50
sushi $4.50 / sashimi $5.50
Sake-salmon
sushi $4.50 / sashimi $5.50
sushi $3.95 / sashimi $4.95
Tamago-japanese omelette
sushi $3.95 / sashimi $4.95
sushi $4.95 / sashimi $5.95
Tobiko-flying fish roe
sushi $4.95 / sashimi $5.95
sushi $5.95 / sashimi $6.95
Unagi-barbecued eel
sushi $5.95 / sashimi $6.95
sushi $5.50 / sashimi $6.50
White Maguro-oil fish
sushi $5.50 / sashimi $6.50
sushi $6.50 / sashimi $7.50
Uni-sea urchin
sushi $6.50 / sashimi $7.50
$

2.00
Green Salad
garden fresh vegetables with house dressing
$

5.00
Avocado Salad
green salad with avocado on top
$

5.50
California Salad
green salad with crab meat & avocado on top
$

5.95
Wakame Salad
seasoned seaweed
$

6.95
Sunomono Salad
seasoned seaweed, shrimp, crab meat, tamago, cucumber & avocado
$

8.50
Fresh Salmon Salad
green salad with fresh salmon
$

2.00
Miso Soup
soybean soup
$

5.50
Gyoza Soup
dumpling, vegetables & egg
$

2.50
Sushi Rice
seasoned rice
$

39.95
Sashimi Small (30 pcs)
$

57.95
Sashimi Medium (45 pcs)
$

73.95
Sashimi Large (60 pcs)
$

36.95
Sushi Small (30 pcs)
$

54.95
Sushi Medium(45 pcs)
$

71.95
Sushi Large(60 pcs)
$

39.95
Sashimi & Sushi Small (15 pcs each)
$

56.95
Sashimi & Sushi Medium(20 pcs of sashimi, 25 pcs of sushi)
$

72.95
Sashimi & Sushi Large(30 pcs each)
$

27.95
Sushi & Maki Small
12 pcs sushi, 6 pcs each of California and salmon maki
$

40.95
Sushi & Maki Medium
18 pcs sushi, 6 pcs each of California, salmon and tuna maki
$

53.95
Sushi & Maki Large
24 pcs of sushi, 6 pcs each of California, salmon, tuna and kappa maki
$

66.95
Sushi & Maki XLarge
30 pcs of sushi, 6 pcs each of California, salmon, tuna, kappa and avocado maki